About Us
Tastees is a Indian takeaway in Nottingham. Why don't you try our Chef Special or Rezala (Very Hot)?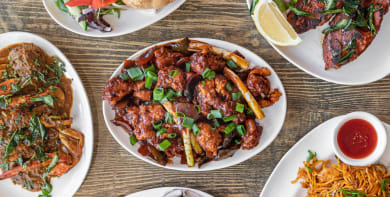 Reviews
169 reviews
Shannon
"Fantastic food piping hot incredible taste the best Indian take away in Nottingham by far great delivery driver too"
21/10/2020
kim
"Great value"
20/10/2020
kim
"Really nice food and great value"
03/10/2020
kim
"Good work guys"
01/10/2020
Menu
Garlic Chilli Chicken
Succulent chicken pieces cooked with green chillies, coriander, extra garlic, distinctive herbs & chefs homemade spicy sauce
£7.50
Chicken Tikka Masala
Chicken breast marinated in homemade spices then cooked with coconut, fresh cream, coriander & mild special spices (nations favourite)
£8.00
Butter Chicken
Succulent chicken pieces cooked with special Indian butter & mild seasoning spices
£7.50
Achari Gosht
Tender lamb pieces cooked with fresh lime pickle, green chillies, garlic & ginger
£8.50
Bhuna Methi Gosht
Tender lamb pieces cooked with extra fenugreek seeds & aromatic seasonal spices
£8.50
Punjabi Saalan
Tender lamb pieces cooked with baby potatoes, green chillies, onion & tomatoes
£8.50
Chef Special Chicken
Cooked with onions, peppers, special spices & garnished with egg omelette
£8.50
Chef Special Lamb
Cooked with onions, peppers, special spices & garnished with egg omelette
£8.50
Chef Special Mix
Tender lamb & chicken pieces cooked with green chillies, garlic coriander & homemade spices
£8.90
Shahi King Prawn Special
Large size prawns cooked with onions, peppers, fresh tomatoes & coriander
£11.95
Tandoori Chicken Rogan Josh
Tandoori chicken tikka cooked with extra garlic, ginger, coriander & special spices
£7.50
Chicken Jalfrezi
Cooked with scrambled egg
£8.50
Lamb Karahi (On the Bone)
£8.50
Paneer Tikka Starter
Cubed Indian cheese grilled with onions & peppers
£3.90
Lamb Seekh Kebab
Minced lamb & special spices skewered together, cooked over a flame chargrill
£3.90
Chicken Boti
Grilled chicken breast pieces cooked with onions & peppers
£4.00
Chicken Melt
Grilled chicken breast pieces, garnished with melted cheese
£4.50
Chicken Wings
5 pcs chicken wings marinated with turmeric & our finest spices
£4.00
Tandoori Lamb Chops
4 pcs of lamb on the bone marinated in chefs special spices, cooked in clay oven to perfection (very popular)
£5.95
Hot Meat Starter
Tender lamb cutlets cooked with green chillies, onion, fiery spices & coriander in a thick dry sauce
£4.95
Masala Fish
Boneless fish coated with homemade special butter, & a touch of fresh lemon
£5.50
Puri Vegetable
Your choice of meat or vegetable wrapped in special fried puri bread
£4.95
Puri Chicken
Your choice of meat or vegetable wrapped in special fried puri bread
£4.95
Puri Prawn
Your choice of meat or vegetable wrapped in special fried puri bread
£4.95
Puri Lamb
Your choice of meat or vegetable wrapped in special fried puri bread
£4.95
Mixed Kebab
Assortment of onion bhaji, seekh kebab & chicken tikka
£5.00
King Prawn Butterfly
King prawn coated with special marinade, deep fried until golden crispy
£5.50
Donner Kebab & Chips on Naan
£6.50
Chicken Tikka Kebab & Chips on Naan
£6.50
Masala Fish Kebab & Chips on Naan
£7.50
Masala Fish & Donner Kebab on Naan
£7.95
Saag Aloo Bhaji (Spinach & Potato)
£4.00
Aloo Gobi (Potato & Cauliflower)
£4.00
Korma Vegetable
This dish is regarded as royalty. Prepared in a sweet sauce with coconut, almonds, fresh cream & sugarcane juice
£7.00
Korma Chicken
This dish is regarded as royalty. Prepared in a sweet sauce with coconut, almonds, fresh cream & sugarcane juice
£7.50
Korma Chicken Tikka
This dish is regarded as royalty. Prepared in a sweet sauce with coconut, almonds, fresh cream & sugarcane juice
£7.90
Korma Lamb
This dish is regarded as royalty. Prepared in a sweet sauce with coconut, almonds, fresh cream & sugarcane juice
£7.90
Korma Keema
This dish is regarded as royalty. Prepared in a sweet sauce with coconut, almonds, fresh cream & sugarcane juice
£7.50
Korma Prawns
This dish is regarded as royalty. Prepared in a sweet sauce with coconut, almonds, fresh cream & sugarcane juice
£7.95
Korma King Prawns
This dish is regarded as royalty. Prepared in a sweet sauce with coconut, almonds, fresh cream & sugarcane juice
£11.95
Pasanda Vegetable
Mild cashew nut & Pistachio creamy sauce
£7.00
Pasanda Chicken
Mild cashew nut & Pistachio creamy sauce
£7.50
Pasanda Chicken Tikka
Mild cashew nut & Pistachio creamy sauce
£7.90
Pasanda Lamb
Mild cashew nut & Pistachio creamy sauce
£7.90
Pasanda Keema
Mild cashew nut & Pistachio creamy sauce
£7.50
Pasanda Prawns
Mild cashew nut & Pistachio creamy sauce
£7.95
Pasanda King Prawns
Mild cashew nut & Pistachio creamy sauce
£11.95
Madras Vegetable
Plain medium to hot flavoured dish
£7.00
Madras Chicken
Plain medium to hot flavoured dish
£7.50
Madras Chicken Tikka
Plain medium to hot flavoured dish
£7.90
Madras Lamb
Plain medium to hot flavoured dish
£7.90
Madras Keema
Plain medium to hot flavoured dish
£7.50
Madras Prawns
Plain medium to hot flavoured dish
£7.95
Madras King Prawns
Plain medium to hot flavoured dish
£11.95
Dopiaza Vegetable
Prepared with large onions, capsicums, fresh tomatoes & mild spices
£7.00
Dopiaza Chicken
Prepared with large onions, capsicums, fresh tomatoes & mild spices
£7.50
Dopiaza Chicken Tikka
Prepared with large onions, capsicums, fresh tomatoes & mild spices
£7.90
Dopiaza Lamb
Prepared with large onions, capsicums, fresh tomatoes & mild spices
£7.90
Dopiaza Keema
Prepared with large onions, capsicums, fresh tomatoes & mild spices
£7.50
Dopiaza Prawns
Prepared with large onions, capsicums, fresh tomatoes & mild spices
£7.95
Dopiaza King Prawns
Prepared with large onions, capsicums, fresh tomatoes & mild spices
£11.95
Methi Vegetable
Classic dish prepared with a handful of fenugreek seeds & aromatic spices
£7.00
Methi Chicken
Classic dish prepared with a handful of fenugreek seeds & aromatic spices
£7.50
Methi Chicken Tikka
Classic dish prepared with a handful of fenugreek seeds & aromatic spices
£7.90
Methi Lamb
Classic dish prepared with a handful of fenugreek seeds & aromatic spices
£7.90
Methi Keema
Classic dish prepared with a handful of fenugreek seeds & aromatic spices
£7.50
Methi Prawns
Classic dish prepared with a handful of fenugreek seeds & aromatic spices
£7.95
Methi King Prawns
Classic dish prepared with a handful of fenugreek seeds & aromatic spices
£11.95
Bhuna Vegetable
A rich but medium flavoured dish, prepared with fresh tomatoes, onions, capsicums & coriander
£7.00
Bhuna Chicken
A rich but medium flavoured dish, prepared with fresh tomatoes, onions, capsicums & coriander
£7.50
Bhuna Chicken Tikka
A rich but medium flavoured dish, prepared with fresh tomatoes, onions, capsicums & coriander
£7.90
Bhuna Lamb
A rich but medium flavoured dish, prepared with fresh tomatoes, onions, capsicums & coriander
£7.90
Bhuna Keema
A rich but medium flavoured dish, prepared with fresh tomatoes, onions, capsicums & coriander
£7.50
Bhuna Prawns
A rich but medium flavoured dish, prepared with fresh tomatoes, onions, capsicums & coriander
£7.95
Bhuna King Prawns
A rich but medium flavoured dish, prepared with fresh tomatoes, onions, capsicums & coriander
£11.95
Vindaloo Vegetable
Traditional dish cooked on a slow heat with mild-medium flavour
£7.00
Vindaloo Chicken
Traditional dish cooked on a slow heat with mild-medium flavour
£7.50
Vindaloo Chicken Tikka
Traditional dish cooked on a slow heat with mild-medium flavour
£7.90
Vindaloo Lamb
Traditional dish cooked on a slow heat with mild-medium flavour
£7.90
Vindaloo Keema
Traditional dish cooked on a slow heat with mild-medium flavour
£7.50
Vindaloo Prawns
Traditional dish cooked on a slow heat with mild-medium flavour
£7.95
Vindaloo King Prawns
Traditional dish cooked on a slow heat with mild-medium flavour
£11.95
Rogan Josh Vegetable
Traditionally cooked with herb & spices & ginger in a rich gravy sauce, an aromatic delight topped with garlic
£7.00
Rogan Josh Chicken
Traditionally cooked with herb & spices & ginger in a rich gravy sauce, an aromatic delight topped with garlic
£7.50
Rogan Josh Chicken Tikka
Traditionally cooked with herb & spices & ginger in a rich gravy sauce, an aromatic delight topped with garlic
£7.90
Rogan Josh Lamb
Traditionally cooked with herb & spices & ginger in a rich gravy sauce, an aromatic delight topped with garlic
£7.90
Rogan Josh Keema
Traditionally cooked with herb & spices & ginger in a rich gravy sauce, an aromatic delight topped with garlic
£7.50
Rogan Josh Prawns
Traditionally cooked with herb & spices & ginger in a rich gravy sauce, an aromatic delight topped with garlic
£7.95
Rogan Josh King Prawns
Traditionally cooked with herb & spices & ginger in a rich gravy sauce, an aromatic delight topped with garlic
£11.95
Jalfrezi Vegetable
Cooked with extra sliced onions & peppers with fresh green chillies in a medium hot sauce
£7.00
Jalfrezi Chicken
Cooked with extra sliced onions & peppers with fresh green chillies in a medium hot sauce
£7.50
Jalfrezi Chicken Tikka
Cooked with extra sliced onions & peppers with fresh green chillies in a medium hot sauce
£7.90
Jalfrezi Lamb
Cooked with extra sliced onions & peppers with fresh green chillies in a medium hot sauce
£7.90
Jalfrezi Keema
Cooked with extra sliced onions & peppers with fresh green chillies in a medium hot sauce
£7.50
Jalfrezi Prawns
Cooked with extra sliced onions & peppers with fresh green chillies in a medium hot sauce
£7.95
Jalfrezi King Prawns
Cooked with extra sliced onions & peppers with fresh green chillies in a medium hot sauce
£11.95
Rezala (Very Hot) Vegetable
A fiery dish cooked with lots of special spices & fresh green chillies
£7.00
Rezala (Very Hot) Chicken
A fiery dish cooked with lots of special spices & fresh green chillies
£7.50
Rezala (Very Hot) Chicken Tikka
A fiery dish cooked with lots of special spices & fresh green chillies
£7.90
Rezala (Very Hot) Lamb
A fiery dish cooked with lots of special spices & fresh green chillies
£7.90
Rezala (Very Hot) Keema
A fiery dish cooked with lots of special spices & fresh green chillies
£7.50
Rezala (Very Hot) Prawns
A fiery dish cooked with lots of special spices & fresh green chillies
£7.95
Rezala (Very Hot) King Prawns
A fiery dish cooked with lots of special spices & fresh green chillies
£11.95
Ceylon (Hot) Vegetable
Not for the faint-hearted. Prepared with extra hot spices
£7.00
Ceylon (Hot) Chicken
Not for the faint-hearted. Prepared with extra hot spices
£7.50
Ceylon (Hot) Chicken Tikka
Not for the faint-hearted. Prepared with extra hot spices
£7.90
Ceylon (Hot) Lamb
Not for the faint-hearted. Prepared with extra hot spices
£7.90
Ceylon (Hot) Keema
Not for the faint-hearted. Prepared with extra hot spices
£7.50
Ceylon (Hot) Prawns
Not for the faint-hearted. Prepared with extra hot spices
£7.95
Ceylon (Hot) King Prawns
Not for the faint-hearted. Prepared with extra hot spices
£11.95
Dansak (Sweet & Sour) Vegetable
Exquisite Persian sensation made with finest lentils, peppers, tomatoes & lemon, all combined together to create & sweet & sour taste
£7.00
Dansak (Sweet & Sour) Chicken
Exquisite Persian sensation made with finest lentils, peppers, tomatoes & lemon, all combined together to create & sweet & sour taste
£7.50
Dansak (Sweet & Sour) Chicken Tikka
Exquisite Persian sensation made with finest lentils, peppers, tomatoes & lemon, all combined together to create & sweet & sour taste
£7.90
Dansak (Sweet & Sour) Lamb
Exquisite Persian sensation made with finest lentils, peppers, tomatoes & lemon, all combined together to create & sweet & sour taste
£7.90
Dansak (Sweet & Sour) Keema
Exquisite Persian sensation made with finest lentils, peppers, tomatoes & lemon, all combined together to create & sweet & sour taste
£7.50
Dansak (Sweet & Sour) Prawns
Exquisite Persian sensation made with finest lentils, peppers, tomatoes & lemon, all combined together to create & sweet & sour taste
£7.95
Dansak (Sweet & Sour) King Prawns
Exquisite Persian sensation made with finest lentils, peppers, tomatoes & lemon, all combined together to create & sweet & sour taste
£11.95
Chicken Tikka Donner Mixed Regular
£6.00
Chicken Tikka Donner Mixed Large
£7.50
Shish Donner Mixed Regular
£8.50
Chicken Shish Mixed Regular
£8.50
Chicken Shish Mixed Large
£9.50
Tastees Special Mixed - Large
Chicken tikka, shish, chips, donner on naan
£9.90
Mixed Grill Tawa
Chicken tikka, lamb tikka, seekh kebab pieces stir-fried with peppers & onions in an Indian Wok
£11.95
Chicken Tikka Boti
Chicken pieces marinated in a tandoori sauce cooked in a clay oven with peppers & onions
£8.00
Shahi Paneer Tikka
Cubes of Indian cheese grilled then cooked in a wok with onions & peppers
£7.90
Special Mixed Grill
Chicken tikka, lamb sheesh, seekh kebab, lamb chops, chicken wings marinated in a tandoori sauce roasted in a clay oven then served with onions & peppers
£16.95
Lamb Chops Tawa
Lamb chops marinated in a highly flavoured tandoori sauce cooked in an Indian wok with peppers & onions
£7.90
Chicken Tikka Melt
Tender pieces of chicken tikka stir fried with peppers & onions topped with mozzarella cheese
£8.50
Aloo Mattar (Potato & Peas)
£7.50
Aloo Gobi (Potato & Cauliflower)
£7.50
Saag Aloo (Spinach & Potato)
£7.50
Contact Us
Find Us
177 Alfreton Road, Nottingham, NG73NW
We deliver to
NG1, NG16, NG2, NG3, NG5, NG6, NG7, NG8