About Us
Tastees is a Indian takeaway in Nottingham. Why don't you try our Chef Special or Rezala (Very Hot)?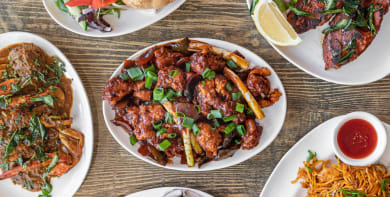 Reviews
144 reviews
Sabah
"Yummy food is delicious"
09/11/2020
Tahmina
"Seekh kebab was overcooked, had more variety of meat last time we ordered the mixed grill. Rest of the food was tasty as usual."
28/10/2020
Lynne
"Food was lush, I will DEFINITELY ORDER AGAIN delivery guy was professional n friendly"
24/10/2020
Shannon
"Fantastic food piping hot incredible taste the best Indian take away in Nottingham by far great delivery driver too"
21/10/2020
Menu
Garlic Chilli Chicken
Succulent chicken pieces cooked with green chillies, coriander, extra garlic, distinctive herbs & chefs homemade spicy sauce
£7.50
Chicken Tikka Masala
Chicken breast marinated in homemade spices then cooked with coconut, fresh cream, coriander & mild special spices (nations favourite)
£8.00
Butter Chicken
Succulent chicken pieces cooked with special Indian butter & mild seasoning spices
£7.50
Achari Gosht
Tender lamb pieces cooked with fresh lime pickle, green chillies, garlic & ginger
£8.50
Bhuna Methi Gosht
Tender lamb pieces cooked with extra fenugreek seeds & aromatic seasonal spices
£8.50
Punjabi Saalan
Tender lamb pieces cooked with baby potatoes, green chillies, onion & tomatoes
£8.50
Chef Special Chicken
Cooked with onions, peppers, special spices & garnished with egg omelette
£8.50
Chef Special Lamb
Cooked with onions, peppers, special spices & garnished with egg omelette
£8.50
Chef Special Mix
Tender lamb & chicken pieces cooked with green chillies, garlic coriander & homemade spices
£8.90
Shahi King Prawn Special
Large size prawns cooked with onions, peppers, fresh tomatoes & coriander
£11.95
Tandoori Chicken Rogan Josh
Tandoori chicken tikka cooked with extra garlic, ginger, coriander & special spices
£7.50
Chicken Jalfrezi
Cooked with scrambled egg
£8.50
Lamb Karahi (On the Bone)
£8.50
Paneer Tikka Starter
Cubed Indian cheese grilled with onions & peppers
£3.90
Lamb Seekh Kebab
Minced lamb & special spices skewered together, cooked over a flame chargrill
£3.90
Chicken Boti
Grilled chicken breast pieces cooked with onions & peppers
£4.00
Chicken Melt
Grilled chicken breast pieces, garnished with melted cheese
£4.50
Chicken Wings
5 pcs chicken wings marinated with turmeric & our finest spices
£4.00
Tandoori Lamb Chops
4 pcs of lamb on the bone marinated in chefs special spices, cooked in clay oven to perfection (very popular)
£5.95
Hot Meat Starter
Tender lamb cutlets cooked with green chillies, onion, fiery spices & coriander in a thick dry sauce
£4.95
Masala Fish
Boneless fish coated with homemade special butter, & a touch of fresh lemon
£5.50
Puri Vegetable
Your choice of meat or vegetable wrapped in special fried puri bread
£4.95
Puri Chicken
Your choice of meat or vegetable wrapped in special fried puri bread
£4.95
Puri Prawn
Your choice of meat or vegetable wrapped in special fried puri bread
£4.95
Puri Lamb
Your choice of meat or vegetable wrapped in special fried puri bread
£4.95
Mixed Kebab
Assortment of onion bhaji, seekh kebab & chicken tikka
£5.00
King Prawn Butterfly
King prawn coated with special marinade, deep fried until golden crispy
£5.50
Donner Kebab & Chips on Naan
£6.50
Chicken Tikka Kebab & Chips on Naan
£6.50
Masala Fish Kebab & Chips on Naan
£7.50
Masala Fish & Donner Kebab on Naan
£7.95
Saag Aloo Bhaji (Spinach & Potato)
£4.00
Aloo Gobi (Potato & Cauliflower)
£4.00
Korma Vegetable
This dish is regarded as royalty. Prepared in a sweet sauce with coconut, almonds, fresh cream & sugarcane juice
£7.00
Korma Chicken
This dish is regarded as royalty. Prepared in a sweet sauce with coconut, almonds, fresh cream & sugarcane juice
£7.50
Korma Chicken Tikka
This dish is regarded as royalty. Prepared in a sweet sauce with coconut, almonds, fresh cream & sugarcane juice
£7.90
Korma Lamb
This dish is regarded as royalty. Prepared in a sweet sauce with coconut, almonds, fresh cream & sugarcane juice
£7.90
Korma Keema
This dish is regarded as royalty. Prepared in a sweet sauce with coconut, almonds, fresh cream & sugarcane juice
£7.50
Korma Prawns
This dish is regarded as royalty. Prepared in a sweet sauce with coconut, almonds, fresh cream & sugarcane juice
£7.95
Korma King Prawns
This dish is regarded as royalty. Prepared in a sweet sauce with coconut, almonds, fresh cream & sugarcane juice
£11.95
Pasanda Vegetable
Mild cashew nut & Pistachio creamy sauce
£7.00
Pasanda Chicken
Mild cashew nut & Pistachio creamy sauce
£7.50
Pasanda Chicken Tikka
Mild cashew nut & Pistachio creamy sauce
£7.90
Pasanda Lamb
Mild cashew nut & Pistachio creamy sauce
£7.90
Pasanda Keema
Mild cashew nut & Pistachio creamy sauce
£7.50
Pasanda Prawns
Mild cashew nut & Pistachio creamy sauce
£7.95
Pasanda King Prawns
Mild cashew nut & Pistachio creamy sauce
£11.95
Madras Vegetable
Plain medium to hot flavoured dish
£7.00
Madras Chicken
Plain medium to hot flavoured dish
£7.50
Madras Chicken Tikka
Plain medium to hot flavoured dish
£7.90
Madras Lamb
Plain medium to hot flavoured dish
£7.90
Madras Keema
Plain medium to hot flavoured dish
£7.50
Madras Prawns
Plain medium to hot flavoured dish
£7.95
Madras King Prawns
Plain medium to hot flavoured dish
£11.95
Dopiaza Vegetable
Prepared with large onions, capsicums, fresh tomatoes & mild spices
£7.00
Dopiaza Chicken
Prepared with large onions, capsicums, fresh tomatoes & mild spices
£7.50
Dopiaza Chicken Tikka
Prepared with large onions, capsicums, fresh tomatoes & mild spices
£7.90
Dopiaza Lamb
Prepared with large onions, capsicums, fresh tomatoes & mild spices
£7.90
Dopiaza Keema
Prepared with large onions, capsicums, fresh tomatoes & mild spices
£7.50
Dopiaza Prawns
Prepared with large onions, capsicums, fresh tomatoes & mild spices
£7.95
Dopiaza King Prawns
Prepared with large onions, capsicums, fresh tomatoes & mild spices
£11.95
Methi Vegetable
Classic dish prepared with a handful of fenugreek seeds & aromatic spices
£7.00
Methi Chicken
Classic dish prepared with a handful of fenugreek seeds & aromatic spices
£7.50
Methi Chicken Tikka
Classic dish prepared with a handful of fenugreek seeds & aromatic spices
£7.90
Methi Lamb
Classic dish prepared with a handful of fenugreek seeds & aromatic spices
£7.90
Methi Keema
Classic dish prepared with a handful of fenugreek seeds & aromatic spices
£7.50
Methi Prawns
Classic dish prepared with a handful of fenugreek seeds & aromatic spices
£7.95
Methi King Prawns
Classic dish prepared with a handful of fenugreek seeds & aromatic spices
£11.95
Bhuna Vegetable
A rich but medium flavoured dish, prepared with fresh tomatoes, onions, capsicums & coriander
£7.00
Bhuna Chicken
A rich but medium flavoured dish, prepared with fresh tomatoes, onions, capsicums & coriander
£7.50
Bhuna Chicken Tikka
A rich but medium flavoured dish, prepared with fresh tomatoes, onions, capsicums & coriander
£7.90
Bhuna Lamb
A rich but medium flavoured dish, prepared with fresh tomatoes, onions, capsicums & coriander
£7.90
Bhuna Keema
A rich but medium flavoured dish, prepared with fresh tomatoes, onions, capsicums & coriander
£7.50
Bhuna Prawns
A rich but medium flavoured dish, prepared with fresh tomatoes, onions, capsicums & coriander
£7.95
Bhuna King Prawns
A rich but medium flavoured dish, prepared with fresh tomatoes, onions, capsicums & coriander
£11.95
Vindaloo Vegetable
Traditional dish cooked on a slow heat with mild-medium flavour
£7.00
Vindaloo Chicken
Traditional dish cooked on a slow heat with mild-medium flavour
£7.50
Vindaloo Chicken Tikka
Traditional dish cooked on a slow heat with mild-medium flavour
£7.90
Vindaloo Lamb
Traditional dish cooked on a slow heat with mild-medium flavour
£7.90
Vindaloo Keema
Traditional dish cooked on a slow heat with mild-medium flavour
£7.50
Vindaloo Prawns
Traditional dish cooked on a slow heat with mild-medium flavour
£7.95
Vindaloo King Prawns
Traditional dish cooked on a slow heat with mild-medium flavour
£11.95
Rogan Josh Vegetable
Traditionally cooked with herb & spices & ginger in a rich gravy sauce, an aromatic delight topped with garlic
£7.00
Rogan Josh Chicken
Traditionally cooked with herb & spices & ginger in a rich gravy sauce, an aromatic delight topped with garlic
£7.50
Rogan Josh Chicken Tikka
Traditionally cooked with herb & spices & ginger in a rich gravy sauce, an aromatic delight topped with garlic
£7.90
Rogan Josh Lamb
Traditionally cooked with herb & spices & ginger in a rich gravy sauce, an aromatic delight topped with garlic
£7.90
Rogan Josh Keema
Traditionally cooked with herb & spices & ginger in a rich gravy sauce, an aromatic delight topped with garlic
£7.50
Rogan Josh Prawns
Traditionally cooked with herb & spices & ginger in a rich gravy sauce, an aromatic delight topped with garlic
£7.95
Rogan Josh King Prawns
Traditionally cooked with herb & spices & ginger in a rich gravy sauce, an aromatic delight topped with garlic
£11.95
Jalfrezi Vegetable
Cooked with extra sliced onions & peppers with fresh green chillies in a medium hot sauce
£7.00
Jalfrezi Chicken
Cooked with extra sliced onions & peppers with fresh green chillies in a medium hot sauce
£7.50
Jalfrezi Chicken Tikka
Cooked with extra sliced onions & peppers with fresh green chillies in a medium hot sauce
£7.90
Jalfrezi Lamb
Cooked with extra sliced onions & peppers with fresh green chillies in a medium hot sauce
£7.90
Jalfrezi Keema
Cooked with extra sliced onions & peppers with fresh green chillies in a medium hot sauce
£7.50
Jalfrezi Prawns
Cooked with extra sliced onions & peppers with fresh green chillies in a medium hot sauce
£7.95
Jalfrezi King Prawns
Cooked with extra sliced onions & peppers with fresh green chillies in a medium hot sauce
£11.95
Rezala (Very Hot) Vegetable
A fiery dish cooked with lots of special spices & fresh green chillies
£7.00
Rezala (Very Hot) Chicken
A fiery dish cooked with lots of special spices & fresh green chillies
£7.50
Rezala (Very Hot) Chicken Tikka
A fiery dish cooked with lots of special spices & fresh green chillies
£7.90
Rezala (Very Hot) Lamb
A fiery dish cooked with lots of special spices & fresh green chillies
£7.90
Rezala (Very Hot) Keema
A fiery dish cooked with lots of special spices & fresh green chillies
£7.50
Rezala (Very Hot) Prawns
A fiery dish cooked with lots of special spices & fresh green chillies
£7.95
Rezala (Very Hot) King Prawns
A fiery dish cooked with lots of special spices & fresh green chillies
£11.95
Ceylon (Hot) Vegetable
Not for the faint-hearted. Prepared with extra hot spices
£7.00
Ceylon (Hot) Chicken
Not for the faint-hearted. Prepared with extra hot spices
£7.50
Ceylon (Hot) Chicken Tikka
Not for the faint-hearted. Prepared with extra hot spices
£7.90
Ceylon (Hot) Lamb
Not for the faint-hearted. Prepared with extra hot spices
£7.90
Ceylon (Hot) Keema
Not for the faint-hearted. Prepared with extra hot spices
£7.50
Ceylon (Hot) Prawns
Not for the faint-hearted. Prepared with extra hot spices
£7.95
Ceylon (Hot) King Prawns
Not for the faint-hearted. Prepared with extra hot spices
£11.95
Dansak (Sweet & Sour) Vegetable
Exquisite Persian sensation made with finest lentils, peppers, tomatoes & lemon, all combined together to create & sweet & sour taste
£7.00
Dansak (Sweet & Sour) Chicken
Exquisite Persian sensation made with finest lentils, peppers, tomatoes & lemon, all combined together to create & sweet & sour taste
£7.50
Dansak (Sweet & Sour) Chicken Tikka
Exquisite Persian sensation made with finest lentils, peppers, tomatoes & lemon, all combined together to create & sweet & sour taste
£7.90
Dansak (Sweet & Sour) Lamb
Exquisite Persian sensation made with finest lentils, peppers, tomatoes & lemon, all combined together to create & sweet & sour taste
£7.90
Dansak (Sweet & Sour) Keema
Exquisite Persian sensation made with finest lentils, peppers, tomatoes & lemon, all combined together to create & sweet & sour taste
£7.50
Dansak (Sweet & Sour) Prawns
Exquisite Persian sensation made with finest lentils, peppers, tomatoes & lemon, all combined together to create & sweet & sour taste
£7.95
Dansak (Sweet & Sour) King Prawns
Exquisite Persian sensation made with finest lentils, peppers, tomatoes & lemon, all combined together to create & sweet & sour taste
£11.95
Chicken Tikka Donner Mixed Regular
£6.00
Chicken Tikka Donner Mixed Large
£7.50
Shish Donner Mixed Regular
£8.50
Chicken Shish Mixed Regular
£8.50
Chicken Shish Mixed Large
£9.50
Tastees Special Mixed - Large
Chicken tikka, shish, chips, donner on naan
£9.90
Mixed Grill Tawa
Chicken tikka, lamb tikka, seekh kebab pieces stir-fried with peppers & onions in an Indian Wok
£11.95
Chicken Tikka Boti
Chicken pieces marinated in a tandoori sauce cooked in a clay oven with peppers & onions
£8.00
Shahi Paneer Tikka
Cubes of Indian cheese grilled then cooked in a wok with onions & peppers
£7.90
Special Mixed Grill
Chicken tikka, lamb sheesh, seekh kebab, lamb chops, chicken wings marinated in a tandoori sauce roasted in a clay oven then served with onions & peppers
£16.95
Lamb Chops Tawa
Lamb chops marinated in a highly flavoured tandoori sauce cooked in an Indian wok with peppers & onions
£7.90
Chicken Tikka Melt
Tender pieces of chicken tikka stir fried with peppers & onions topped with mozzarella cheese
£8.50
Aloo Mattar (Potato & Peas)
£7.50
Aloo Gobi (Potato & Cauliflower)
£7.50
Saag Aloo (Spinach & Potato)
£7.50
Contact Us
Find Us
177 Alfreton Road, Nottingham, NG73NW
We deliver to
NG1, NG16, NG2, NG3, NG5, NG6, NG7, NG8